After I made the
baby chick M&Ms
I really wanted to make a baby chick lunch. With the season of spring here (sadly not weather-wise lately!) and with Easter right around the corner I thought this would be an adorable lunch to make!
Big Baby Chick
This lunch was super easy to make:
The baby chick is an open faced ham and cheese sandwich cut with a circle cookie cutter.
The cheese placed on top I colored yellow since I didn't have any yellow cheese in the house (I used this coloring cheese technique found here). *It really didn't take that long to color the cheese, but if you want to skip that step just use your favorite yellow cheese.
The chick's hair, beak and feet are carrots.
The eyes are edible eye candies.
The wings are made from the same cheese as the body.
The flowers are watermelon cut with a flower cookie cutter with carrot centers. I added some green pepper stems, leafs and grass.
Because of the circle cookie cutter this chick looks very rolly polly! But that is what makes him extra cute! Almost too cute to eat!
And what is that in the flowers?
That was Eliana's idea. She wanted the baby chick M&Ms to be in the flowers :) At first I thought, Why didn't I think of that?! She is brilliant! :) But then I realized: Well she is mine. I gave birth to her. So brilliance must be in the genes ;)
I'm participating in a blog hop for Easter/Spring ideas among a few bloggers! Please hop on over to the next blog and to the next, and the next, and the next for some great Easter/Spring creative food ideas!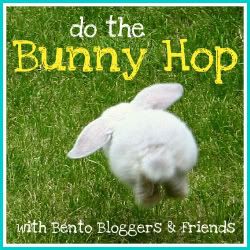 For more Spring Fun Food Ideas Click
HERE
:)